Porsche have committed AUD $1.5 billion for the development of it's Mission E electric sportscar. Unveiled at the Frankfurt Auto show in September the concept vehicle was the toast of the show.  However just a few days later it's parent company's spectacular fall from grace over dieselgate overshadowed any short lived acclaim for the new direction Porsche was taking.
But the Mission E is back in the news with Porsche committing to the vehicle which should be on the streets by 2020.  It will be a direct competitor to the runaway brilliance of the Tesla Model S although a little slower in performance to the Model S P90D in ludicrous mode.  It is spec'd at 0-100kph at 3.5 seconds whereas ludicrous mode gets there in 2.8 seconds.  The Mission E is a four (bucket) seat sedan with a range of 500kms.  It will have an 800 volt charger capable of charging to 80% full in 15 minutes which is faster than the current Tesla Superchargers.  It is also slated to offer inductive (wireless) charging for owners with the inductive charging equipment located in their garages.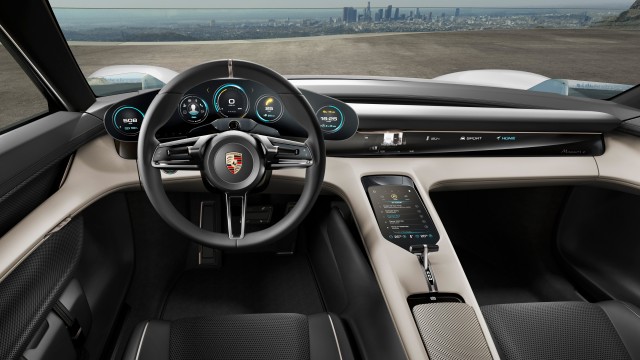 As can be seen from the above image, the display panel mimics the 911 classic 5 gauge dash – but the gauges will be OLED technology. The chair of Porsche, Dr Oliver Blume stated: "We are resolutely taking on the challenge of electric mobility. Even with solely battery-powered sports cars, Porsche is remaining true to its philosophy and offering our customers the sportiest and technologically most sophisticated model in this market segment."  A bold claim perhaps as we don't quite know where Tesla will be by 2020 nor for that matter Aston Martin who announced their commitment to an electric range of sports cars commencing with the Rapide at the end of 2017.