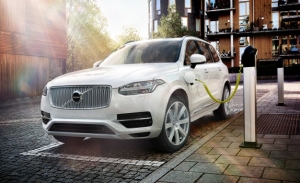 We blogged just a few days back how Aston Martin are moving to electric and handing James Bond what will be an electric supercar by end 2017.  Volvo have also announced they will be electrifying their fleet by 2019 with a range of hybrid and fully electric vehicles.
The Swedish company's President and CEO, Håkan Samuelsson, stated, "We believe that the time has come for electrified cars to cease being a niche technology and enter the mainstream. We are confident that in two years' time, 10 per cent of Volvo's global sales will be electrified cars".
The electrification strategy will mean that by 2019 Volvo will offer plug in hybrids across it's entire range.  They also intend to build a new range of smaller electrified vehicles (40 series) with a fully electric model on sale by 2019.
The current Volvo Cars' XC90 T8 Twin Engine hybrid model has an electric drive range of 50kms before the ICE engine kicks in and is one of the fastest SUVs and cleanest on the market with 0-100kms in around 6 seconds with 49g/km CO2 (emission claims by any manufacturer will need reverification for real world driving following the VW scandal).
The XC90 is the first in the 90 series that's leading the charge into hybrid technology.  The 60 series will also benefit from the company's new Scalable Product Architecture (SPA) while the Compact Modular Architecture (CMA) for the new 40 series are platforms designed specifically for electrification.
Volvo hybrid and electric buses have been around for several years as have hybrid and electric trucks.
"With around 40 years of experience in the field of electrification, Volvo Cars has learned a lot about battery management along the way, delivering the best range per kilowatt hour in the industry. We have come to a point where the cost versus benefit calculation for electrification is now almost positive. Battery technology has improved, costs are going down, and public acceptance of electrification is no longer a question", Senior Vice President of R&D, Dr Peter Mertens, stated.  No doubt the explosive growth of electric vehicles in Norway (its next door neighbour), has had some influence on the comany's thinking.