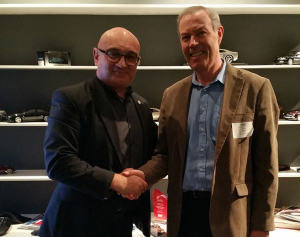 I was in Melbourne recently and was fortunate enough to catch up with Richard Ferlazzo the Design Director for GM Holden. Richard and his very talented design team are based in Port Melbourne and are the people responsible for the beautifully crafted GM Electric Bolt.  The Bolt caused quite a stir at the Detroit motor show earlier in the year not only for its good looks but also because it will offer 300+km range and cost around $37,000 before US incentives (up to $10,000).  It will most likely hit the market before the Tesla Model 3 and is due out towards the end of 2016.
On the way through to Richard's office, escorted by Kate Lonsdale, Senior Manager – External Communications, I had a glimpse of some concept vehicles that looked quite stunning. Sorry folks but pictures weren't allowed.
Our discussion opened with the topic of autonomous technology and I asked whether any would be built in to the Bolt.  As this is a new vehicle and not yet in production, detail on any aspect of the Bolt technology could not be discussed – damn!  No doubt there will be changes to the concept vehicle Richard and the design team built and the actual production model.  I would imagine some AV tech will be part of the package as it is being incorporated by all major manufacturers these days.  One of the major hurdles for mass AV adoption Richard suggested would be integrating AV equipped vehicles with human drivers.  Considering that the Google AVs have had 11 accidents (none serious) and all caused by human drivers (rear enders, side swipes and one guy running a red light), this will probably be the case.
With a background in industrial design and a passion for automobiles, Richard found his niche in automotive design in Australia.  I asked if the team had been asked to design the Bolt as a measure of security but the reason the Aussies were given the job was that the local design team is highly regarded by GM HQ for the quality of the work they have produced over the decades.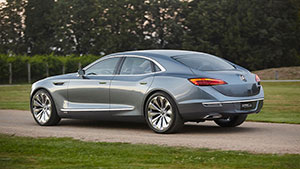 The other vehicle by the way that was also produced by the Port Melbourne rock stars for the Detroit show was the Buick Avenir (opposite) – a beautiful looking car that somehow reminded me of a muscled up E type Jag.  Please GM, consider a full electric version of this one.
With a new vehicle the brief would be to design a vehicle that is a certain target size, within a certain price bracket and appeals to a particular type of buyer. Rather than taking something completely from scratch it makes sense to see if an existing model or components from an existing model will fit in with the design requirements.   It was very interesting listening to Richard describe all the various aspects of car design that have to be taken into account.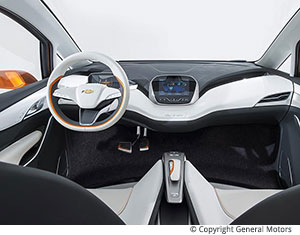 The Bolt is a commuter vehicle that fits a number of criteria – it's what is known in the trade as a B segment type vehicle (see vehicle types).  With it comes a new propulsion system so that brings in some new design aspects not typical of ICE vehicles – where do you put the battery pack, motor etc.
The Bolt will hopefully be on sale towards the end of 2016 or beginning 2017.  Battery manufacturer LG Chem, GM's suppliers, recently announced a 120kWh battery pack capable of at least 300mile (500kms) range on a single charge.  It would be nice to see the Bolt with a battery option that size.
Manufacture will take place at the Orion assembly plant 30 miles north of Detroit.  Interestingly this plant is powered by gas from two nearby landfills  saving over 6,000 tons of CO2 from entering the atmosphere annually.  It is additionally powered by a 350 kilowatt solar array.