Electric bus trial under way in UK
Wouldn't it be great for our cities if we had clean, quiet, no emissions electric buses to ferry people about instead of the carcinogenic diesel buses that are currently the mainstay.  Many bus trials are underway around the world.  Various types of recharging solutions are being trialled.
Of particular interest is the launch of the wirelessly charged electric bus on 9th January 2014 in Milton Keynes in the United Kingdom.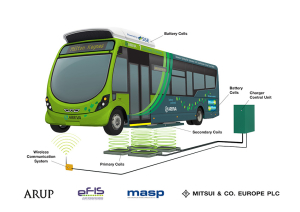 Click the image above to enlarge
A problem for electric buses is the size of batteries required to give continual service without the need of returning to base to be recharged.  The weight element of batteries with sufficient range is also an issue as all that weight being carried around reduces the range.  The bus trial launched by Baroness Kramer, the UK's Minister of State for Transport on 9th January 2014 overcomes the issues of large heavy batteries by wirelessly recharging the batteries at various stages along the route – if you like taking little sips of electric energy without the need for plugging in.
These buses are designed to run 17 hours per day 7 days per week and this 5 year trial sets out to test the integrity of the technology in being able to perform as well as or better than the more conventional diesel bus.