Electrikhana is the showcase event for the Australian EV Association WA branch.  It was held last Saturday and featured some great electric cars.  Everyone was invited to drive the various EVs on display that included the Nissan Leaf, the Holden (GM) Volt, Mitsubishi iMiEV together with a range of electric go carts, motorbikes and scooters.  There were even a few quite specialist 'garage' EV machines up for rides.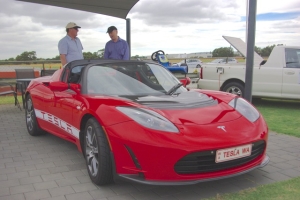 One of the show pieces on display was the Tesla Roadster which thrilled everyone with it's looks and prowess – one of only 2 in Western Australia.  I was lucky enough to get a ride in it with Hans and it lives up to all the hype – an amazing machine with incredible acceleration.  Thank  you Hans for the ride.
I test drove the Leaf and the Volt.  They are both solid machines and the owners are very pleased with their purchases.  On balance I tend to favour the Nissan Leaf as it is pure electric.  With the assistance of my good friend Barrie Oldfield I managed to do a bit of a commentary on my ride around the track.  Big thanks to Brian for bringing his car to the show and being so generous in letting everyone try it out. Apologies for the wind noise on the sound of the above video.