The secretive Faraday Future company has been gathering a team that aim to take us beyond the innovation Tesla has already brought to the marketplace. With a staff of 400 plus in place now and still in stealth mode, it is hard to know exactly how they intend to be different but there are some clues.
The company has announced "a 3 million square foot workshop for passionate creators and diligent visionaries" in North Las Vegas which will eventually hire more than 4,500 employees to create a new identity of car. It has reported as having $1 billion ready to pump in to the new facility.
From the FF website: "We will launch with fully-electric vehicles that will offer smart and seamless connectivity to the outside world. Beyond traditional electric vehicles, we are also developing other aspects of the automotive and technology industries, including unique ownership models, in-vehicle content and autonomous driving."
FF want to be seen as an alternative to Tesla. There is no doubt they want to bring out vehicles with the same 'wow factor' that Tesla has shaken up the automotive industry with. It seems they have gone to Tesla for inspiration and poached a lot of their primary team from there, including the following;
Nick Sampson, Senior Vice President of R&D and Engineering – Former Director of Vehicle & Chassis Engineering, Tesla Motors
Dag Reckhorn, Vice President of Global Manufacturing – Former Director of Manufacturing, Tesla Model S
Alan Cherry, Vice President of Human Resources – Former Senior Director, Human Resources, Tesla Motors
Tom Wessner, Vice President of Supply Chain – Former Director of Purchasing, Tesla Motors
Richard Kim, Head of Design – Founding member of BMW i Design and Lead Designer, i3 and i8 concepts.
Seems only Richard Kim was poached from BMW with everyone else from Tesla. It's of course a very big compliment to Tesla in a backhanded kind of way.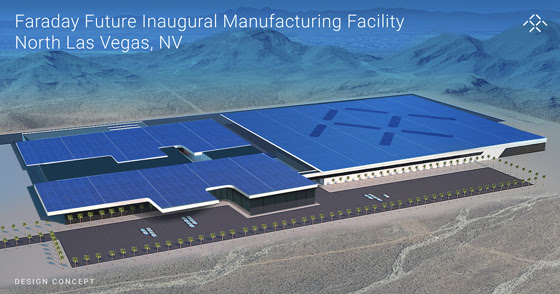 So they have factory premises staked out, have hired a bunch of very relevant people "with the ultimate aim of connecting the automotive experience to the rest of your life". Your FF car becomes another connected smart device seamlessly integrated in to your personal electronic world. A device that knows enough of your quirks and routines to make suggestions rather than just react to commands – a drop of Artificial Intelligence combined with an electric drive train and full autonomy.
If you follow the recent direction of EVs you'll realise there's nothing too radical in the FF plan. Well at least on the surface. There may be more significant differences in the business model that FF bring to the table with new offerings of ownership and different ways to share vehicles that will set the company apart from a Tesla lookalike.
We don't have very long to wait till we learn a lot more about Faraday Future. They plan to enlighten us on On January 4, 2016 at the CES in Las Vegas and "will unveil a concept inspired by our design and engineering vision." You can watch the unveiling live at this link – http://www.faradayfuture.com/ces2016/
Will this upset the Applecar?