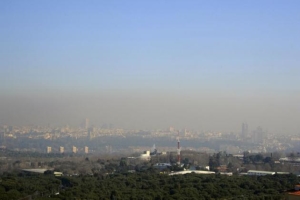 Not from terrorism – not from Ebola – but still dead and it happens every year.  2000 die in Madrid annually from vehicle pollution and the locals are fed up with it.  It's not as if Madrid is the highest ranking air polluted city in Europe – it doesn't even make the top 3 and comes a few spots behind London, Paris and Rome.  It's number 6 on the ranking but the people of Madrid have had enough of the "boina" or beret of air pollution that sits like a cap on top of the city.
The situation has been steadily getting worse with the number of vehicles increasing in the city.  For the sixth year in a row the city has breached the EU norms of poisonous nitrogen dioxide since they were introduced in 2010 and it risks big fines from the European Union.
The situation has become so bad that in December of last year Ecologists in Action instituted a lawsuit against Ana Botella, Madrid's mayor and her environment chief Diego Sanjuanbenito.  The reaction to the lawsuit has been predictably branded a stunt by Sanjuuanbenito and the courts are yet to decide on whether to hear the case.
But it's no stunt that hospital admissions are increasing for asthma and related breathing problems for the residents.  It's no stunt that 2000 Madrid residents are dying prematurely every year from air pollution and the biggest culprit by far is vehicle emissions.
Diesel vehicles are now restricted in parts of the city and 'intelligent parking meters' charge more for vehicles deemed to be more polluting.  Tighter restrictions are planned for diesel vehicles in both London and Paris.
The World Health Organisation estimates that air pollution results in 7 million premature deaths each year.
With the evidence so obvious from many cities in the world, why are there no restrictions on diesel vehicles entering Australia which is seeing an alarming increase in the numbers of these vehicles on our roads.  It is estimated we are already spending up to $5 billion annually in health costs related to air pollution – do we wait till the situation is unbearable before we tackle this problem when alternative technologies are available to lessen it?
Why are there no incentives in Australia for electric vehicles as there are in just about every other developed country in the world?  We are already subsidising toxic vehicles by way of the externalised costs to our health service.  The vehicle manufacturers of EVs (Nissan & BMW) have approached government but the silence from Canberra on this major health issue is disgraceful.