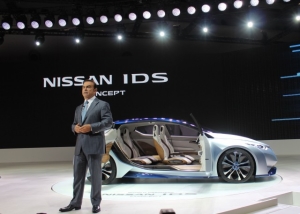 Nissan unveiled an autonomous concept car at the Tokyo motor show currently running in Japan, that points to the second wave of disruption about to hit the auto industry (the first being electric vehicles).
This electric concept indicates the ability for autonomous driving as well as driver control at the press of a button when required.
The video promo of the vehicle shows the owner summoning it autonomously to the front door, picking up a passenger along the way and switching to autonomous mode on the highway (see video below).
It has coach doors (like the BMW i3) a carbon fibre body (for light-weighting and strength) with a futuristic interior, screens and retracting driving controls.  The coach doors are great for interior photography shots but not sure about their practicality in the real world.
This sporty, sexy, fabulous looking vehicle has built in inductive charging meaning you simply park over a transmitter charge point and it charges without the need for plugs or cables.  Nissan have hinted at a 60kW battery pack which would suggest a real world driving range close to 400kms.
With a new LEAF suggested for end 2017/2018 the obvious question is how much of this technology will be built in to this Tesla 3 competitor due out around the same time.  Could it be that this concept car is  in fact a headsup of what we can expect with the second iteration of LEAF Nissan brings to the market.  If so it will be serious competition for the GM Bolt and Tesla 3 (but then Elon Musk has always been full of surprises).
This exciting concept vehicle really does illustrate the complete change and disruption ahead for the motor vehicle industry.
To his great credit, Nissan CEO Carlos Ghosn, has long been an advocate for electric vehicles and championed the most successful electric vehicle in the world, the Nissan LEAF.
He confirmed the Piloted Driving  system incorporated in the IDS concept will be built in to 'near future' production vehicles.  It has 12 cameras,  five sonar sensors and five laser sensors.  Fasten your seatbelts…. and relax!
Check out the video above for the Nissan IDS Concept – and subscribe to our eNewsletter for all the latest developments and updates on everything EV.